Al Leonard, UX Lead at Sparkgeo takes users through a tour of MERMAID's brand new global Dashboard.
This is a guest blog by Al Leonard, UX Lead at Sparkgeo
Coral reef scientists spend hundreds of hours and millions of dollars tracking the state of the world's coral reefs. And it's not a good outlook – over 90% of the world's coral reefs could be degraded from climate change in the coming decades. But there is still hope! We know that managing fisheries, cleaning up water quality, and safeguarding corals in areas of potential climate refuge are things we can do today to try to save coral reefs for tomorrow.
Data is more powerful when shared
We are making a global dashboard that will show the power of data that coral reef scientists collect around the world, and help transform data into decisions that can help save coral reefs.
This dashboard builds on our functional Collect application, a field-ready tool for scientists to collect data about coral reefs. Our global dashboard showcases these data in a way that allows anybody to see the amount of data the efforts of the contributors. We hope that this inspires and motivates others to use MERMAID, because the more data we can collect, the better informed we all can be about coral reef conservation and the state of coral reefs around the world. You can't manage what you can't measure.
Here are mockups for this MERMAID dashboard: static images of what users would see and how they would interact with the data. The dashboard is still in the prototype phase–i.e., it's not functional yet. Help us make them a reality!
The dashboard will initially show global site-level summary metrics for all sites. Panning and zooming around the map will update the summary statistics based on the current view (map extent).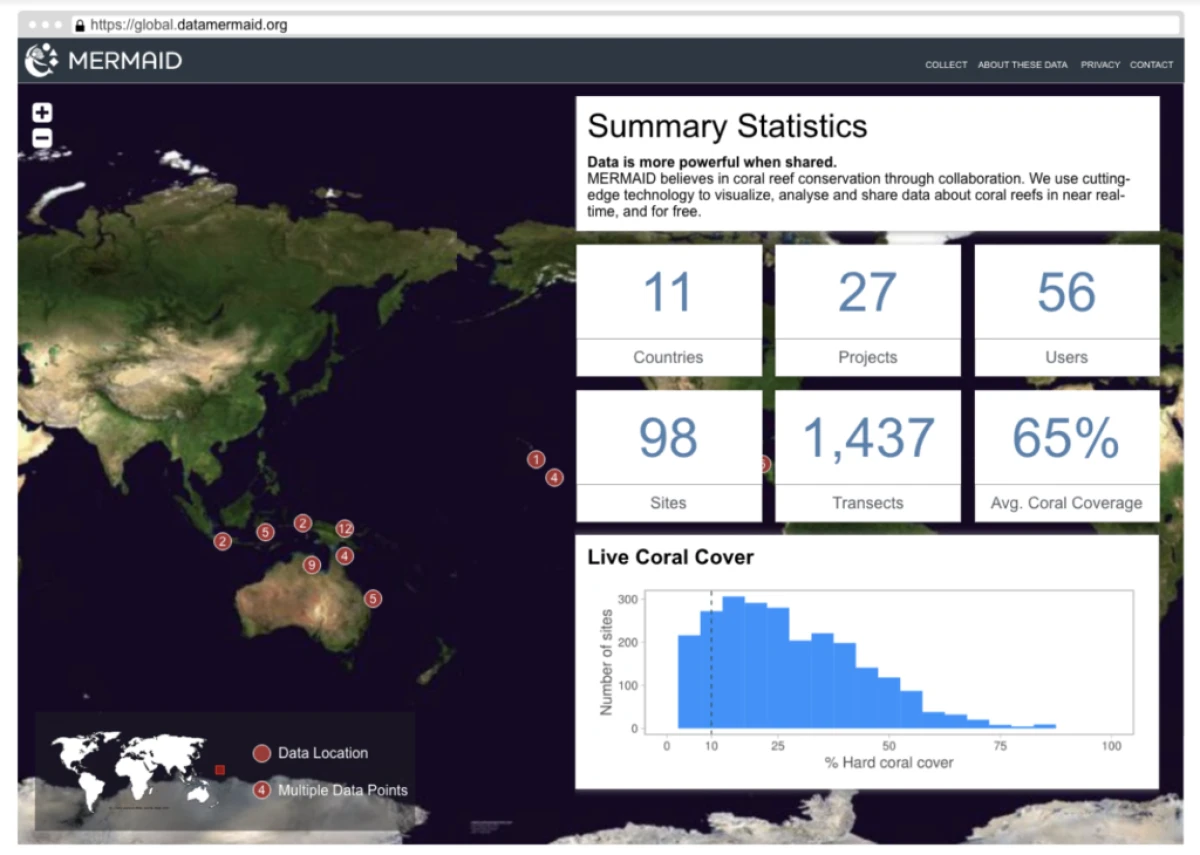 Choosing how to share data with the dashboard
You can then explore more detail by clicking on a site to reveal site summary metrics for data collected there. The summary for each site will be based on the data-sharing settings chosen for that project. Data sharing options are selected separately in the Collect App for corals (benthic), reef fish, and bleaching surveys.
We encourage data collectors to share data, but we also know that privacy is important. We have three levels of data privacy that can be used for each survey method: Public, Public Summary, and Private. Learn more about MERMAID's data sharing options here. Public and Public Summary data are used for summary metrics in the dashboard. Private data are not included in summary metrics, but locations and project contact information remain available.
Site summary: PUBLIC SUMMARY data sharing
This is a mockup for an example site in a project with data sharing set to Public Summary. It shows site-level averages, but there are not options to download the data.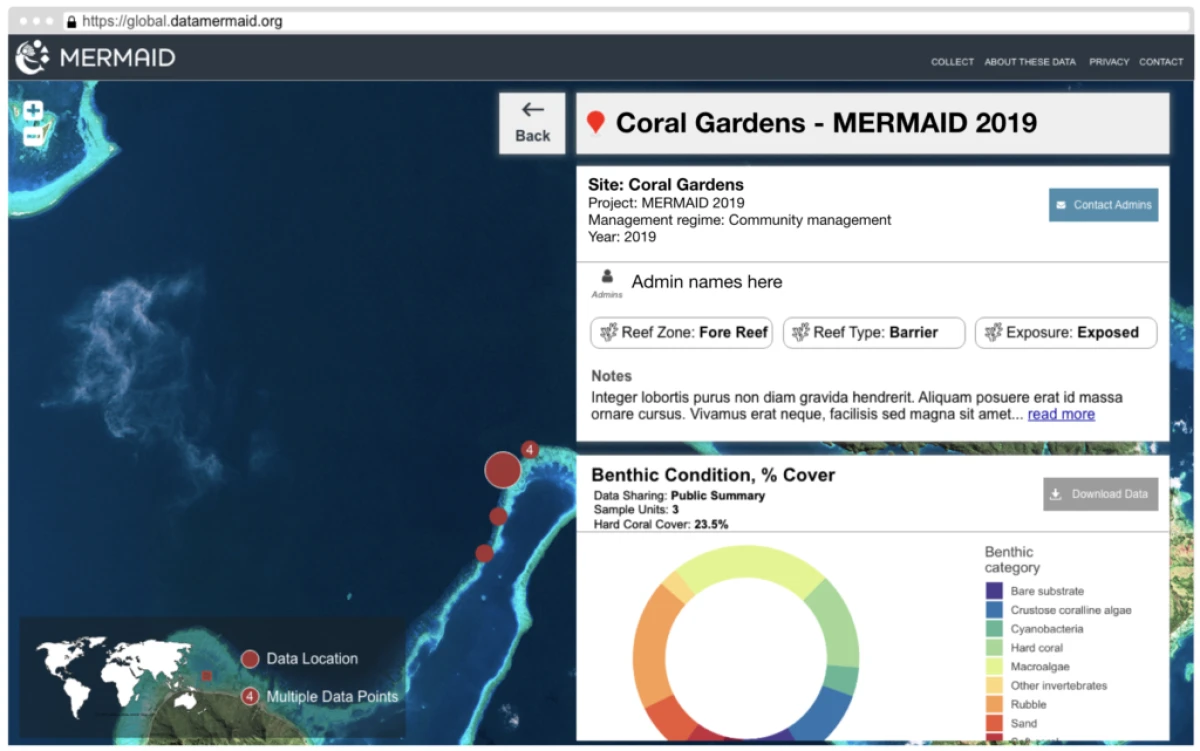 Site summary: PUBLIC data sharing
In the next screenshot, the benthic condition and fish belt data are displayed and available for download because data sharing has been set to Public for this project.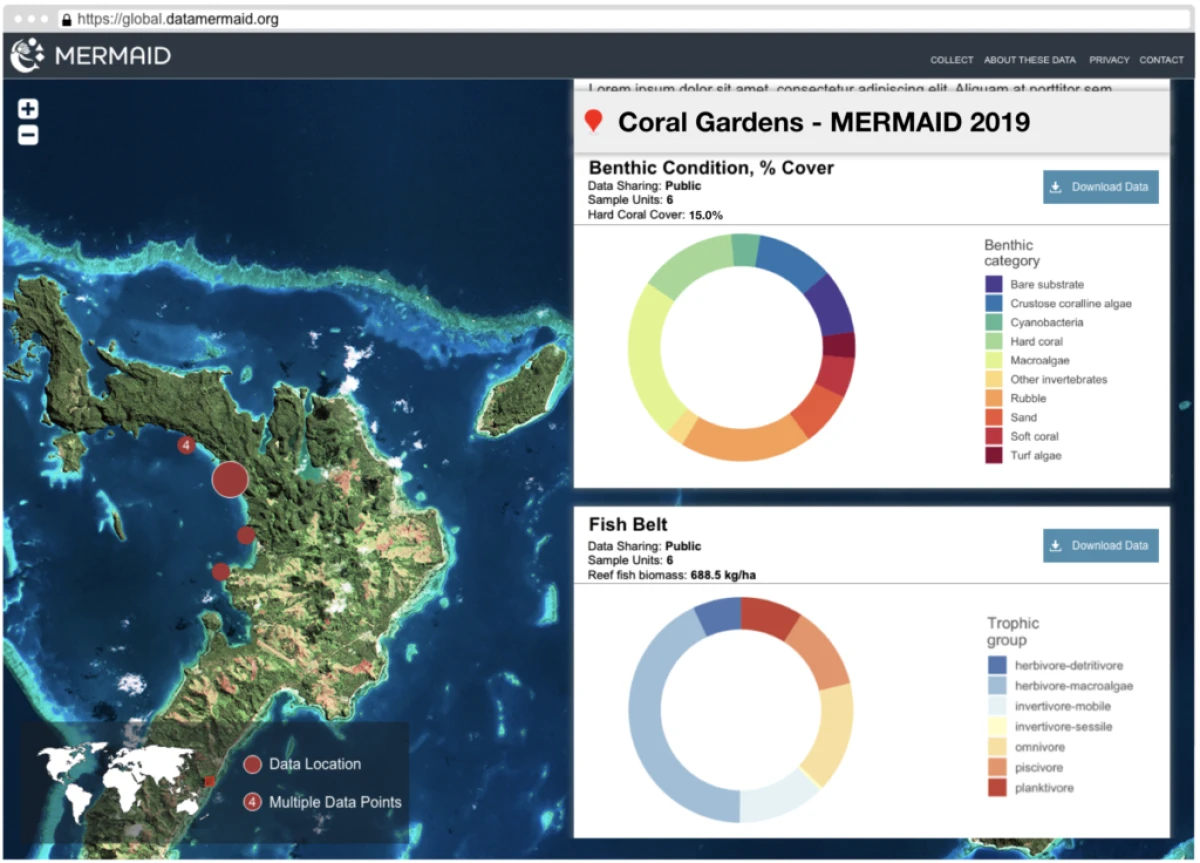 Site summary: PRIVATE data sharing
A site always shows project and site metadata and provides a way to contact project administrators. If benthic or fish survey methods are marked Private for that project, no summary metrics will be calculated.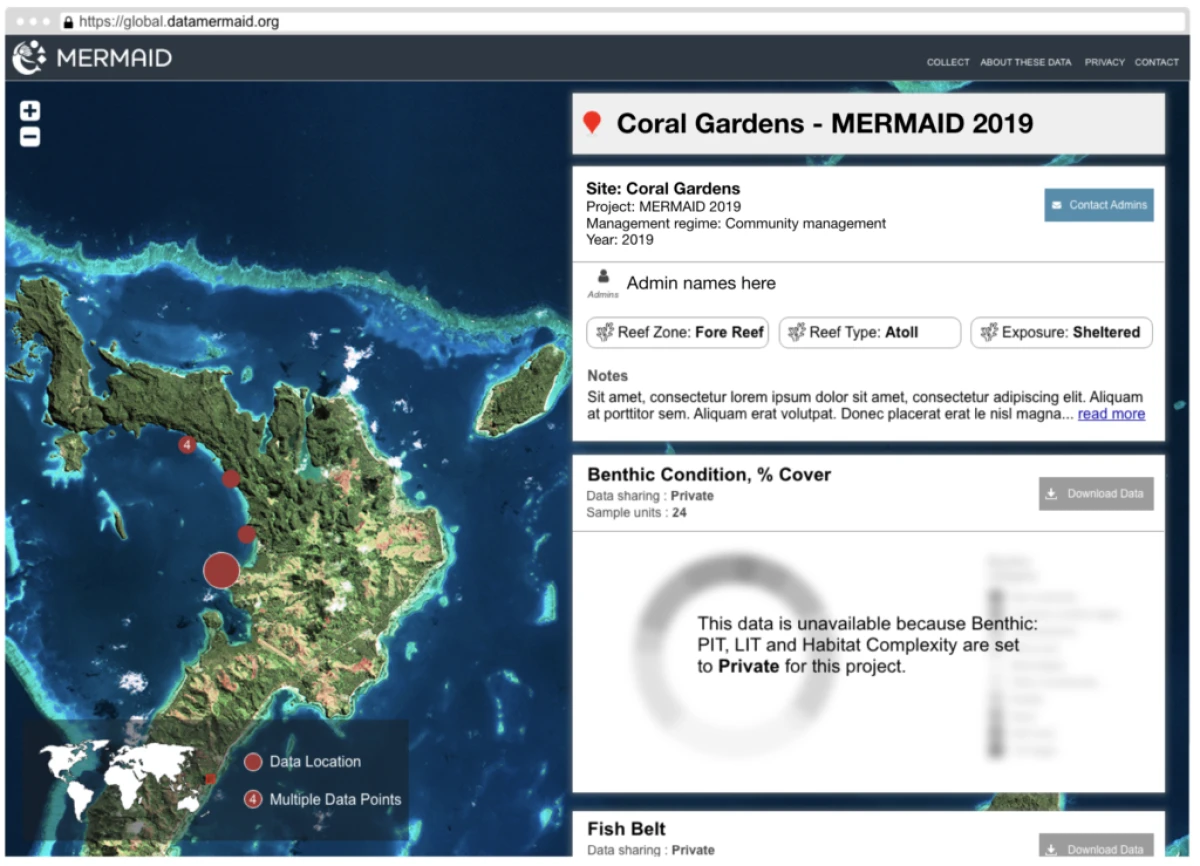 Ready to help?
Our hope is that with this level of detail in our data, we're able to showcase the power that using MERMAID can have in making decisions that can help coral reef conservation.
Reach out to us if you have skills that can make this dashboard a reality and want to contribute to the conservation of coral reefs globally.
Email [email protected] or use our contact us page on our website to discuss contributing to our open-source dashboard repository.