MERMAID, the marine conservation tool transforming underwater insights into actionable data, just announced the new release of MERMAID version 2.4.
MERMAID allows marine scientists to gather, analyze, and share field-based reef surveys on an open-source platform, providing granular data to support conservation efforts. Version 2.4 features the new helper text added to input fields and enhanced filtering for sample unit tables.
New Helper Text
MERMAID improved its user experience by adding new helper text to all input fields. Users can view this feature by clicking the info icon next to any relevant area. Each will have its own explanation, including text-filling examples.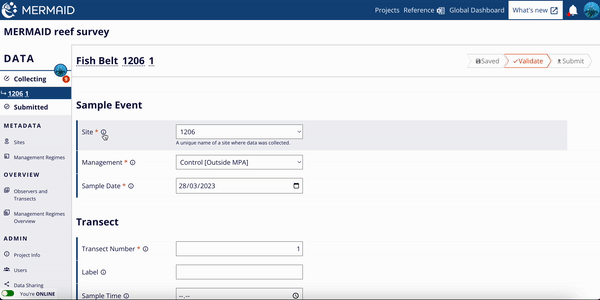 Improved Filtering for Sample Unit Tables
Another exciting feature is enhanced filtering. Users will find a recently added button next to the search bar in each sample unit table, like the Collecting, Submitted, Observers and Transects, and Management Regimes Overview pages. This button filters sample units based on the relevant method.
The feature further allows users to filter in multiple ways. The total sample unit using the chosen method will appear next to the filter button.