What are the different user roles in MERMAID, and how do you define them on the platform? Learn more about Project Admins, Collectors, and Read-only access.
It takes a whole team to make a coral reef survey successful – from organizing the expedition, to collecting data underwater, to analyzing the results. With MERMAID, you can assign different roles to team members based on their scope of work and the type of data they need access to.
There are three different user roles in MERMAID, which can be defined separately for each project.
Read-only users can view, export, and analyze data in the analysis tools, but cannot collect new observations. This type of user may be a project manager who is in charge of writing reports or analyses but is not collecting data in the field.
Collectors can view, export, and analyze data, and collect new observations. Collectors submit their transects to the project admins for review. This type of user would be a member of the project team who is tasked with collecting data, or an intern who enters the data from the field teams.
Project admins have full administrative privileges. They can add, edit and remove users, and add, edit and delete observations of collected and submitted records. Admins can also transfer ownership of a collector's collect records, and set decisions about the project's data sharing. This is typically the one person designated as the lead of the project.
User roles can be chosen when initially creating a project, and they can be changed and deleted by a project admin at any time in the 'Users' tab of the admin toolbar within the project. Admins can also add and delete project users in this tab.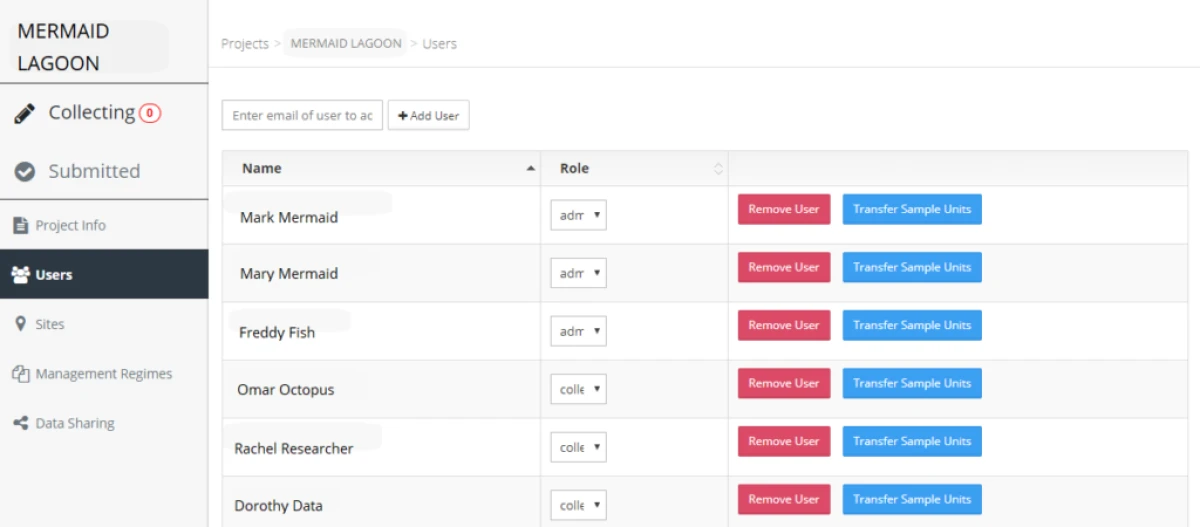 If a user with existing collect records in a project is leaving or is no longer a part of the project, their collect records will need to be transferred to another user. Project admins can do this in the 'Users' tab by clicking the 'transfer sample units' button and choosing another collector or project admin to transfer these records into their 'Collect' transects. These records will now appear in that user's 'Collecting' tab.